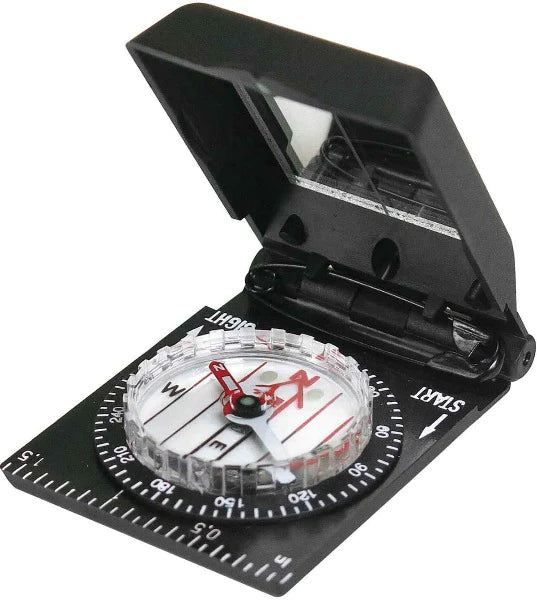 Mini Compass
---
Available for Local Pickup
Low stock - 2 items left

Inventory on the way
The SILVA Mini is perfect to bring as an extra compass, it is super lightweight and takes up minimum space. It can be attached to your jacket with a safety pin, thereby allowing hands-free navigation. A mirror sighting compass should be your choice when you must determine direction over long distances. With the mirror tilted to a 45-degree angle, you can check your direction by looking at the bezel in the mirror while sighting in the correct direction of travel. The red/black North-South lines in the capsule bottom ensures easy and safe settling. The compass needle is made from finest Swedish steel with high quality magnetic features.
SPECS:
Map measuring scale in inches

Turn-able housing usable with the SILVA 1-2-3 System®

Night use / luminous markings enable night time navigation up to 4 hours once activated by daylight/flashlight

Robust material withstands tough treatment and conditions

Built-in sundial helps determine the time of day by the apparent position of the sun 

Includes a detachable lanyard

Accuracy - 1°

Clinometer- No

Compass capsule / needle - Liquid filled capsule, High quality Swedish steel needle, Hardened steel pivot

Declination adjustment - No

Declination scale - No

Dimensions - Folded: 41x57x14 mm (1.6"x2.2"x0.5")

Durability - Withstand 1M drop into wooden floor

Graduation - 360°

Illumination - 4 hours after activation in light, Yes

Magnifying lens - No

Material - Acrylic, PBT/Fiberglass

Measuring scales - Inch

Patented red/black N/S lines in capsule - Yes

Resolution - 5°

Safety pin attachment - Yes

Sapphire jewel bearing for friction-free movement of the compass needle - Yes

Sighting System - Mirror sighting

SILVA 1-2-3 - Yes

Temperature operating range - -20 to +60 °C, (-4°F to +140°F)

Variant - Magnetic North

Weight - 23 g (0.8 oz)
Products are available for purchase in-store at our Shop located at:
Purchase Online with shipping or local pickup!
Free Local Delivery is available with the purchase of Kayaks & Paddleboards in Naples & Marco Island