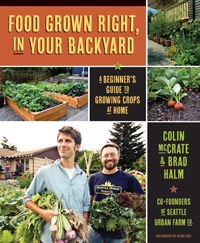 Food Grown Right In Your Backyard
---
Available for Local Pickup
Low stock - 1 item left

Inventory on the way
As the founders behind the 
Seattle Urban Farm Company
, 
Colin McCrate
 and 
Brad Halm
 have heard it all: My backyard is too small; how can I make space for a garden? Do I really need to buy fertilizer? What on earth is that creature crawling on the tomatoes? My crops took off and the zucchini are in the sidewalk -- who has time to harvest this all?!
Food Grown Right, in Your Backyard
 is a primer for these questions and more. In response to the rising interest in homegrown foods, the Seattle Urban Farm Co. builds vegetable gardens for everyone from busy families to restaurants. Along the way, Colin and Brad teach beginner growers from all walks of life the techniques of organic food production. In this full color, beautifully photographed guide, they prove that anyone can develop a "green thumb," as they show readers how to build a garden from the ground up, explain general garden basics, discuss the best types of crops to try, and much more, including:
* Garden size and design for any setting (no matter how small!), including container gardens
* Soil types, and watering and irrigation
* Plant life 101, and profiles of recommended vegetables, herbs, edible flowers, and berries
* Garden tools and time-saving rules
* Crop planning, tips on what to do with the harvest, and a garden calendar to keep your garden growing year-round
Q&A material, profiles of other beginner gardeners, and step-by-step instructions all come together in this unique, friendly guide that was inspired by the kinds of questions Colin and Brad hear every day on the job with the Seattle Urban Farm Co.
"The book is clear, concise, and beautifully illustrated. Even the more technical sections are presented in 'layman's terms,' so even if you are new to gardening you will understand them. The photographs make understanding the text easy. Additional tables throughout the text also help, including one giving materials for composting. Because of the way the information is laid out, it won't matter where you live, you will still be able to use the information. If you wish to plant a vegetable garden, this is easily one of the most useful books I've seen."
-- 
The National Gardener
CONTRIBUTORS
Products are available for purchase in-store at our Shop located at:
Purchase Online with shipping or local pickup!
Free Local Delivery is available with the purchase of Kayaks & Paddleboards in Naples & Marco Island